Events
Sud Cuisine and Sud-Hotel staff organise all year round events such as "evening for wine testing".
Entertainment
Whether you stay at the hotel, you eat at the restaurant or you are just walking by, you can enjoy our entertainments.
To know more about our program, sign in our newsletter to be the first to receive our offers, news and promotions…
Wine tasting event at Sud-Hotel
Join us at our "wine testing afterwork" evening and meet Maitre-sommelier Raphaël Pierre-Bianchetti.
Our " tasting discovery" evenings invites you to experience original themes such as " perfect match music & wine", " chocolate &wine", …
Gift cards are available for wine evenings and also for Joseph wine workshop (timely organised by Joseph, the hotel owner).
Gift card from 39 eur/pers. You can order by email or by phone: 04 95 30 20 61. You can pay directly the gift card at the hotel or by phone. Gift cards can be collected directly or sent by mail.
Joseph wine workshop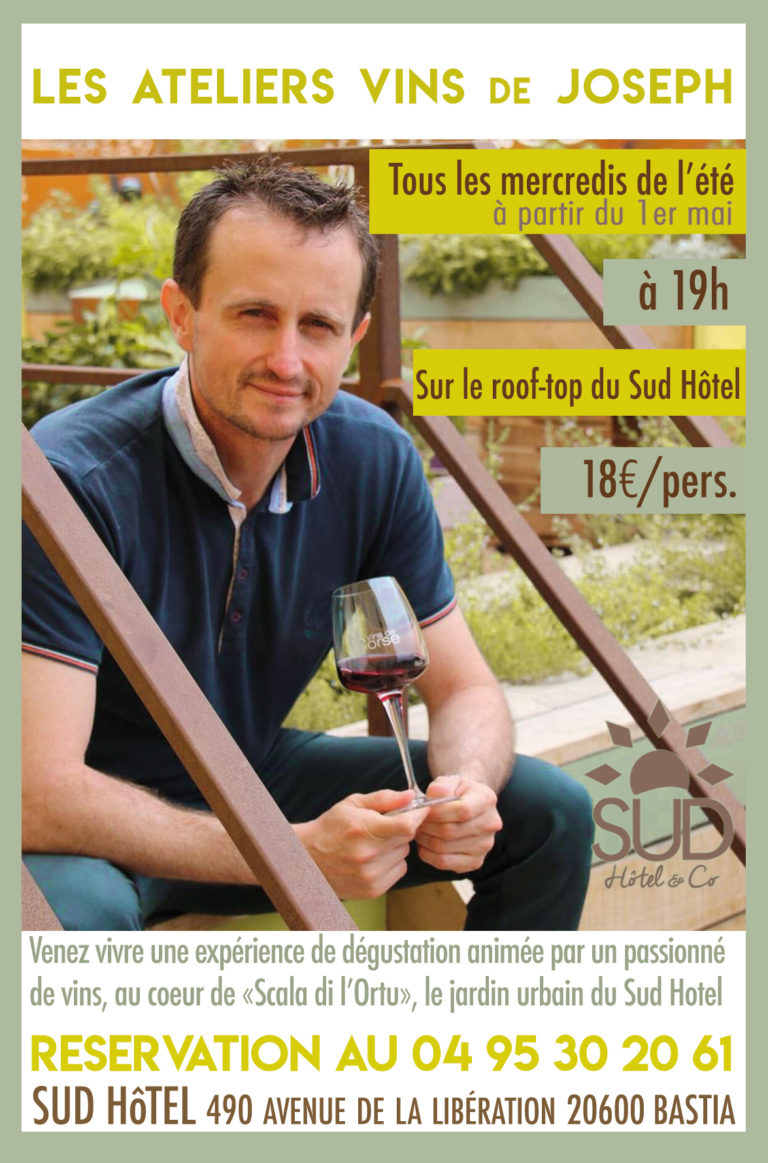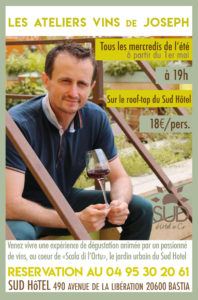 Tous les mercredis de l'été jusqu'au 25 septembre 2019 inclus, Joseph vous propose un atelier Vin, à 19h, sur le roof top du Sud Hôtel.
Membre actif de l'Association des Sommeliers de Corse, Joseph, passionné d'œnologie, vous transmettra sa passion de manière ludique et vous enseignera l'art de la dégustation autour de 3 vins corses accompagnés d'amuse-gueules.
L'atelier d'1 heure prendra place dans un lieu atypique, le jardin urbain du toit-terrasse de l'hôtel. Joseph vous initiera à la dégustation à travers une analyse sensorielle de 3 vins corses sélectionnés sur un thème précis (terroirs, cépages ou appellations…).
Si le temps ne s'y prête pas, l'atelier sera déplacé au bar-salon de l'hôtel.
Pour connaître la thématique de l'atelier hebdomadaire, contactez l'hôtel par téléphone au 04 95 30 20 61
RESERVATION OBLIGATOIRE AU 04 95 30 20 61
Pour un groupe de 10 à 12 personnes, il est possible de réserver un atelier en dehors du mercredi. Contactez Joseph pour obtenir un devis.
No Results Found
The page you requested could not be found. Try refining your search, or use the navigation above to locate the post.
The room, staff and dining experience were all very good . For an overnight stay it was absolutely fine although quite a walk from the centre...
The staff was great! Really friendly Rooms were very clean!
A very special place. The terrace, the urban Garden made with love. You feel comfortable...
Micaire - France
Very nice and cosy hotel. Located close to the city center. Staff is extremely polite :))) Recommendation for bikers.
Amer - Bosnia and Herzegovina
Rooms were very clean and very comfortable bed. Staff very friendly and good food in restaurant. Had locked garage for our motorcycle.